Questions to Ask Before Getting Veneers: A Guide to Ensuring Quality and Aesthetics at Transcend Specialized Dentistry

If you're considering veneers to improve the appearance of your smile, it's essential to make an informed decision about the process, materials, and provider. Not all veneers are created equal, and choosing the right type and specialist can significantly impact your satisfaction with the results. We'll discuss some key questions to ask during any consultation you have, highlighting the importance of quality, fit, and aesthetics in your decision-making process.
Frequently Asked Questions
What types of veneers are available, and which is best for me?
There are several types of veneers, including porcelain or composite, and prep or no-prep veneers. Each type has its advantages and drawbacks, and the best choice for you will depend on factors such as your budget, dental health, and desired results. During your consultation at Transcend, our specialists will discuss the pros and cons of each type and recommend the most suitable option for your specific needs.
How do you ensure the quality and aesthetics of the veneers?
A dental professional's eye for detail and understanding of beauty are crucial in achieving optimal aesthetic outcomes with veneers. At Transcend, our experienced team is committed to delivering exceptional results by combining skill, artistry, and the latest technology. Don't hesitate to ask about our experience and expertise in cosmetic dentistry and request to see before-and-after photos of previous patients. This will give you a better idea of the results you can expect and the level of skill and artistry involved in our work.
Can veneers cause bad breath or gum inflammation?
Good quality veneers with proper care should NOT cause bad breath or gum inflammation. Poorly fitting veneers can indeed lead to bad breath and gum inflammation. This is often due to excess cement or an improper fit, which can create a breeding ground for bacteria. To avoid these issues, it's essential to choose a specialist with a track record of creating high-quality, well-fitting veneers. Don't be afraid to ask about our process for ensuring a precise fit and what steps we take to minimize the risk of complications.
Are veneers reversible or removable?
Some veneers, such as no-prep veneers, may be reversible or removable. However, traditional porcelain veneers typically involve the removal of a small amount of tooth enamel, making the procedure irreversible. During your consultation at Transcend, our specialists will address your concerns about reversibility or removability and help you understand how this may influence the type of veneers you choose.
What materials do you use for veneers, and why?
The quality of materials used in veneers can greatly impact their appearance, durability, and overall satisfaction. Common materials include porcelain and composite resin, with porcelain generally considered the gold standard for aesthetics and longevity. At Transcend, we prioritize the use of high-quality materials to provide the best results for our patients. We utilize lithium disilicate and feldspathic porcelain to achieve beautiful and long lasting outcomes in our smile makeovers.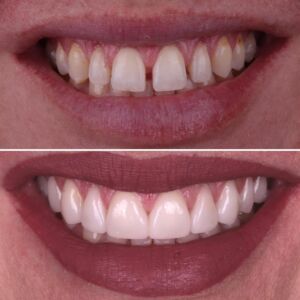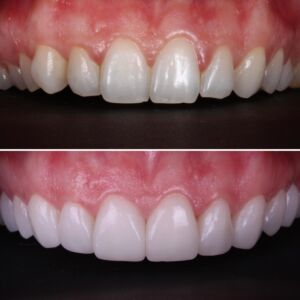 Conclusion:
When considering veneers, it's essential to focus on quality, fit, and aesthetics to ensure a satisfying and long-lasting result. By asking these key questions during your consultation, you can make an informed decision about veneers and feel confident in your choice. Remember, the expertise and experience of your dentist or dental specialist play a crucial role in achieving the beautiful smile you desire, so don't hesitate to schedule a consultation to discuss your needs and expectations.
Read More: