Dental Veneers
High-Quality Porcelain Veneers at Transcend Specialized Dentistry: Elevate Your Smile with Precision and Artistry
At Transcend Specialized Dentistry, we are committed to providing our patients with the highest quality dental care and exceptional results. Our porcelain veneers, expertly crafted and customized by Dr. Faraj Edher and his team, exemplify our dedication to excellence and attention to detail. By utilizing advanced technology, high-quality materials, and a personalized approach, we create stunning and natural-looking veneers that elevate your smile and enhance your unique beauty.
What are Porcelain Veneers?
Porcelain veneers are thin, custom-made shells designed to cover the front surface of teeth, improving their appearance and restoring their natural function. They are a good solution for addressing various cosmetic concerns, such as discolored, chipped, misaligned, or unevenly spaced teeth. Veneers not only provide an instant smile transformation but can also offer long-lasting results, thanks to their durability and stain-resistant properties.
The Transcend Specialized Dentistry Difference: Advanced Technology and High-Quality Materials
At the core of our approach to creating exceptional porcelain veneers is the use of cutting-edge technology and high-quality materials. We utilize 3D facial scanners and advanced smile design software to develop a precise and accurate representation of your new veneers, ensuring that they complement your unique facial features and desired aesthetic outcome.
Our in-house lab, equipped with 3D printing technology, enables us to craft custom veneers with precision and efficiency. In addition, we use only the highest quality materials for our veneers, guaranteeing a stunning and natural appearance that stands the test of time.
Unparalleled Expertise and Personalized Care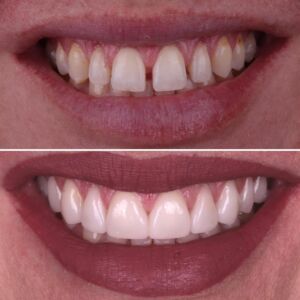 What sets our porcelain veneers apart is the personalized attention and expertise that Dr. Faraj Edher and his team bring to each and every case. Our commitment to understanding your goals and preferences allows us to develop a treatment plan tailored specifically to you, resulting in veneers that enhance your smile and boost your confidence.
Dr. Edher's keen eye for beauty and meticulous attention to detail ensure that each set of veneers achieves a harmonious balance between form and function. Our collaboration with some of the world's best ceramists guarantees that the final result is nothing short of extraordinary.
At Transcend Specialized Dentistry, we believe that your smile should be a reflection of your unique personality and beauty. Our porcelain veneers, crafted with precision, artistry, and the highest quality materials, provide a stunning and natural-looking solution to enhance your smile. Contact us today to discover how our unparalleled expertise and personalized care can help you achieve the radiant, confident smile you deserve.